Several of our Living Fit gals either are or have been pregnant while running & staying fit so we wanted to start a forum for giving some fit mom advice!  Keep in mind we are just enthusiasts and not experts, please consult your doctor before developing a plan that works for you.  We hope to feature these postings on various Mondays through out the month, send us ideas if you have any! 
My Pregnancy: Five First Trimester Side Effects & How I Stayed Healthy Through Them!
Guest Blogger – Christine Loncaric [read more about her HERE!]  
I'm Christine – a runner, yogi, and all around active momma! I have a 2.5 year-old daughter, and am pregnant with baby #2, due in June!
The first trimester of a pregnancy is exciting, but filled with a lot of changes – you are carrying around the most wonderful secret, but also dealing with some rapid shifts in your body & hormones. Now that I have entered the second trimester most of these side effects have diminished, and it feels like a good time to look back on the first few months of my pregnancy.
1. FATIGUE
I started feeling the regular first trimester fatigue sinking in around week 7 of my pregnancy. I felt normal through most of my work day, but by the time 4-5pm hit, I was ready to sit, or even sleep. With a normally busy life, and a toddler at home, this was definitely an unwelcome change! There were days that driving home from work and fixing dinner for my family felt like climbing a mountain. A couple things kept me going during the week: early morning workouts and access to a gym at my workplace. With shortening winter days (it's dark before I get home from work) and the tiredness I felt in the evenings, I had to consistently move my workouts to the morning or lunch time. I try to follow a "do the opposite" rule for myself during pregnancy: If I'm struggling with energy level during the day, despite sitting and not exerting much at work, I commit to a lunch time workout, or a 30 minute walk during a chunk of free time in my schedule. If I feel completely exhausted and have been on my feet chasing a toddler all day, I let my body rest without guilt. This serves me well during all stages of pregnancy.
2. CRAZY HORMONES & MOOD SWINGS
This is an ugly truth for me during the early months of pregnancy. I would be happy one minute, and anxious or frustrated (for seemingly no reason!) the next. Since becoming a mom a couple years ago, running and yoga have been my favorite way to clear my head and relish in some "me time." I knew that in the midst of my unpredictable pregnancy hormones it was more important than ever to carve out time for myself. I found a pre-dawn yoga class I love and joined a running group in my neighborhood, which gave me a couple days of workouts I could do early morning. It has been amazing to stay active and not have to jeopardize time with my family. The biggest adjustment was moving most workouts to the morning, before the evening fatigue set in!
3. BLOAT  
I love my body and everything it can do, but it can be frustrating to go from a fairly flat belly to a lumpy one. It's not just vanity, but comfort too – skinny jeans with a button just aren't comfortable all day when it looks like you ate too many burritos for lunch. Luckily, I work in a casual environment where boyfriend jeans or loose fitting tops are the norm, but my changing midsection was very obvious to me in my tight workout gear. A yoga class should be a place of zero judgement, but it is important to me that I feel good in the clothes I wear to a studio so I can have a mindful, focused practice. My husband surprised me with a pair of Align yoga pants [pictured below] from lululemon athletica which have been my favorite thing to put on lately. They have a higher rise and feel wonderful on my growing belly – perfect for the transition from bloat to bump. I was also given a pair of Maternity Chaturanga Tights yoga leggings from Athleta for Christmas that I can't wait to put to use!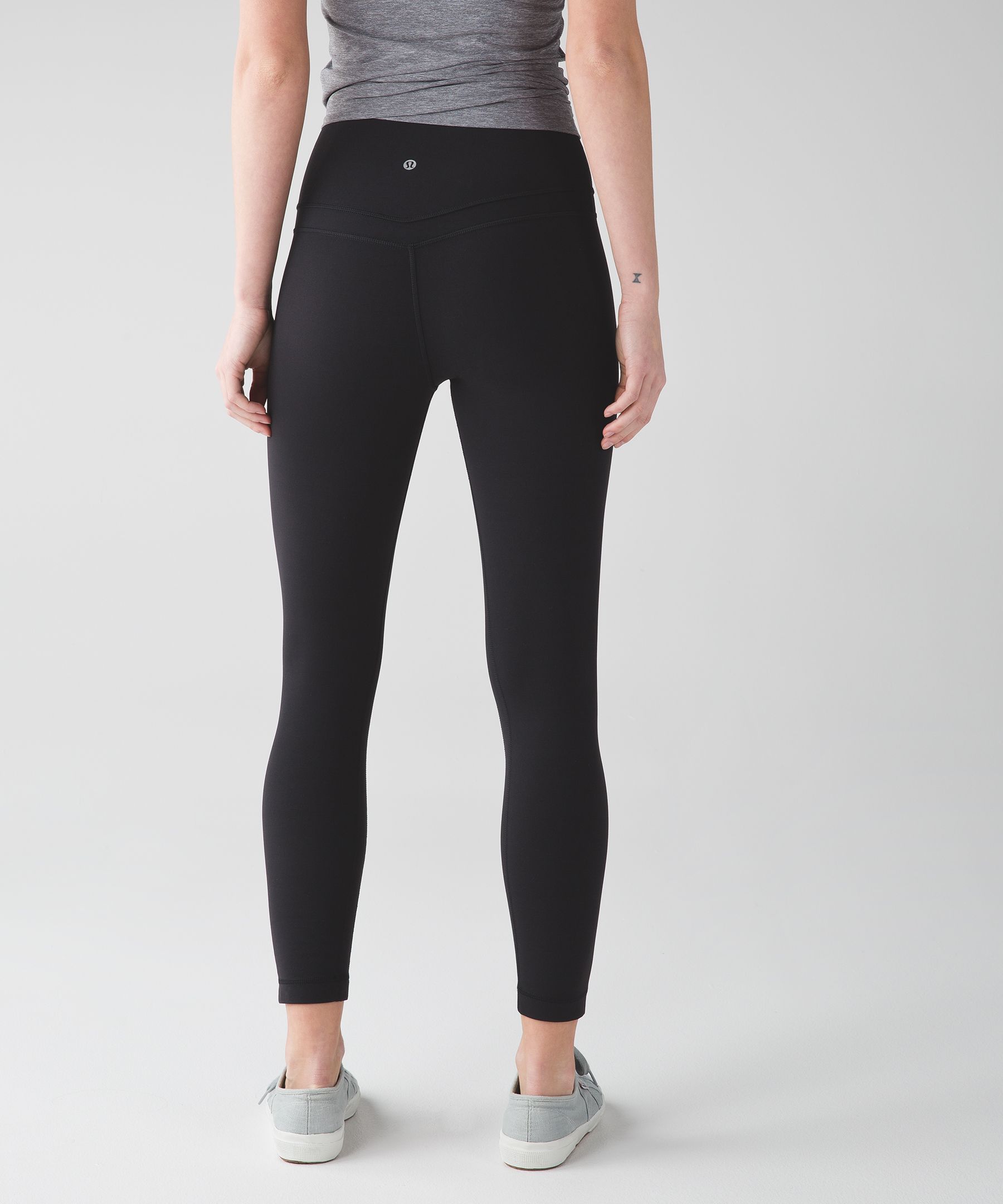 Align Pant from lulu pictured above
4. NAUSEA & CHANGES IN APPETITE
Morning sickness and food aversions are the norm for a lot of pregnant women. I am fortunate that I never actually got sick, and my nausea was usually a sign that I needed to eat something. Again around lucky week 7 I stopped wanting any kind of raw vegetable, which threw a wrench in a diet usually filled with big salads for lunch and dinner. It would have been easy to fall into the carb trap (bread & crackers always sound good!), but instead I moved from raw to roasted veggies. I roasted everything – broccoli, butternut squash, sweet potatoes, tomatoes, cauliflower, green beans, etc. – and loved it all. I always keep a jar of my favorite pesto sauce in the fridge, so veggies, a lean protein, and pesto become a staple for me. It served double duty – foods that appeased my food aversions, and healthy foods that are good for both baby and me.
5. CHANGES TO WORKOUTS
Staying fit throughout my pregnancy is a priority of mine, but being mindful of my body and growing a healthy baby comes first. My first doctor's appointment was around my 9 week mark, and even though I've been pregnant and had a healthy baby before, I still wanted to check in with my OB/GYN to make sure I was making safe decisions. My doctor knows how the importance of my active lifestyle and encouraged me to keep up my normal workouts with one big change: Hot yoga had to go. My favorite classes are at Harbor Yoga where the heat and intensity are high–temps can rise near 100 degrees with a high level of humidity. I am now sticking to heated classes that don't go over my body temperature and have always felt appropriately challenged and safe. I've been to heated classes at Balanced Yoga and Go Yoga that I love, and plan to check out a pre-natal yoga class at those studios soon. As for running? My OB encouraged me to run to 7 mile race I had already registered for (it's in one week!). Her comments are always reasonable and rational to me – if my belly feels heavy, try a maternity belt. If running gets too hard on my ligaments, slow down and speed walk. Other than that, I listen closely to my body. I stay hydrated and am not afraid to step back on intensity level or weights during weekly boot camp classes, but am still moving a lot and even trying new workouts (I tried my first Orange Theory Fitness class during my first trimester!). It can be hard for me to admit when it's time to scale back, so I feel so thankful that I have a doctor who has helped me brainstorm ways to stay active and fit.
Christine pictured on the right; pregnant & fit @ OTF!
Thanks C!  Looking forward to more Fit Momma Monday posts from several of our runners and readers! 
Photo credits:  lululemon.com, freestockphotos.biz & Living Fit Columbus!